Services and Activities
Your staff
Rita Dewi is the Villa Manager. She will welcome you to the villa and care for your departure. Furthermore, she will be available on request at any time, you might have a question.
Komang is the House Manager. He speaks excellent English, and is skillful in personal assisting. Together with the rest of the staff he will make sure, that your stay in Villa Bayad will be pleasant and filled with memorable experiences.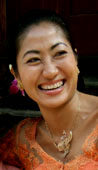 Rita
Villa Manager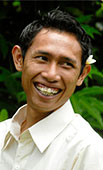 Komang
House Manager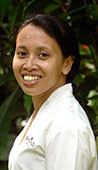 Sri
Ass. Cook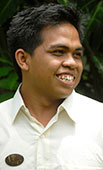 Made
Housekeeping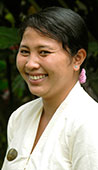 Lastini
Housekeeping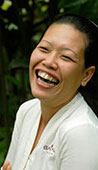 Putu
Cook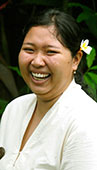 Ratih
Housekeeping
Catering
Breakfast is included in the accommodation and you may have it served in the dining room or on your own veranda, as you please. Your staff will prepare lunch or dinner for you on your request. Simply choose from your in-house menu card. If you want, feel free to use the kitchens for your own cooking experience. The staff will be ready to help you with the local specialities.
Complimentary Ubud Shuttle
Any time you want to go to Ubud for shopping or dining, your driver will take you there and pick you up again on call. A local call mobile phone will be supplied to you for easy contact with the villa, while you are elsewhere.
Gym and Bikes
For the fitness interested a fully equipped gym will be at your free disposal, and we have 4 mountainbikes in the villa if you want to explore the neighbouring Ubud hills.
Activities
In the villa we can easily arrange:
Massage.
Yoga lessons (We have a nice secluded yoga pavillion, and yoga mats and cusions are available for your convenience).
Cooking classes.
Your staff will always be ready to arrange activities on your request, such as:
Excursion tours.
Balinese dance evenings.
Visit to local artists and galleries.
Trekking tours.